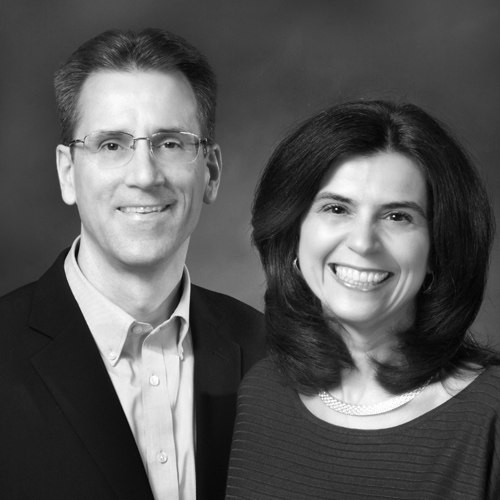 Pastor Pat Visger
The eighth of nine children, Patrick Visger was a ten year old Roman Catholic boy when his family first attended Bethesda on Wednesday August 8, 1973. Still attending Catholic school as his family made a transition in faith, little did he know that one day an office door at Bethesda Christian Church would display: Pastor Patrick Visger.
It was only one month after completing Bethesda's young adult catechism class in 1980 that his father died unexpectedly, and Pat began questioning the things of God he had just learned. His focus in life shifted as he went to college to study engineering. Along the way he met a beautiful young lady named Julie and the two were married in 1985. A year into married life their first daughter, Heather, was born. Pat worked full-time and attended night classes at Lawrence Technological University until he earned a Bachelor's degree in mechanical engineering. After Emily, the couple's second daughter, was born, Julie went on a quest for peace. She began to seek God to fill this need in her life. Julie suggested that she and Patrick attend Bethesda's adult catechism class where she was hoping to find answers. It was at the start of this class in January of 1993 that both Patrick and Julie would begin to earnestly pursue God and ultimately turn their lives completely over to Jesus Christ. While Pat found resolution to questions that had arisen years earlier, Julie found peace in yielding her life to Christ. Following the completion of that class they fully committed to Bethesda as their home church and began serving in various departments from the nurseries, to high school, catechism, adult education, and the church council, while raising their two daughters who graduated from Bethesda Christian School (Heather) and Parkway Christian School (Emily).
During those years Patrick began to attend the Bethesda Bible Institute to learn and grow more in the Word of God. He wanted to bolster his Biblical knowledge thinking that one day after his career was over he might dedicate more time to the church. An announcement at the January 2003 church council meeting changed those plans. Bethesda was seeking a full-time ministry director and Pat discerned God prompting him to respond. He did respond and in March 2003 transitioned from his 18-year mechanical engineering and software development career to become a full time Bethesda staff member.
Since that time Patrick has been privileged to serve the Lord and Bethesda as Director of Catechism, Adult Education, and Men's Ministry, leading and instructing Bible studies on Tuesday mornings and Wednesday evenings, being integral to the Thursday morning service and progressing as a commissioned minister to a licensed minister and to an ordained minister. Along the way Pat also completed studies at Trinity Theological Seminary earning a Master of Arts Degree in Biblical Studies. When preaching and teaching the Gospel, Pat employs relatable life illustrations by drawing from his unique background. He and Julie are both thrilled and humbled to be leading the Bethesda congregation, and they are anticipating great things for the church and the surrounding community.
Pastor Julie Visger
For many years, Julie Visger questioned the significance of Jesus. She grew up in the Catholic faith, yet she was far from understanding what a genuine relationship with Jesus looked like. She met and fell in love with Patrick Visger during her senior year of high school, and they married in 1985. Thirteen months later she was overjoyed to become a mother when her daughter Heather was born, and three and a half years later she was blessed to welcome another beautiful daughter, Emily. Julie thoroughly enjoyed being a wife, working around the house, and being a stay-at-home mom while Pat worked as an engineer to support the family. She had absolutely no inclination that God had other plans for her future.
In 1993, Julie began seeking a true relationship with Jesus and enrolled in Bethesda's Catechism class with her husband Pat. She came to understand God's grace, received salvation, and was soon after filled with the Holy Spirit when her husband Pat prayed for her. This experience brought Julie to the realization that her life belonged to the Lord, and she wholeheartedly surrendered to Him and His will for her life. Soon after she could be found serving in various areas of the church, including working in the nurseries, serving in the dining room, teaching a class for women, assisting in the high school department, and some years later volunteering in hospice outreach.
In 1999, Julie and her husband Pat were brought into the Catechism Department as group leaders. During that time, Julie noticed a need for another type of foundational class. Knowing that her husband had the gifts of teaching and writing, she convinced him to develop a curriculum for this new class. With the approval and blessing of Pastor Dunn, Pat and Julie started a class together called New Journey. This class grew quickly, and it was during this time that Pat and Julie were called into full-time ministry.
Julie joined Bethesda's staff in 2003, initially hired to direct the Visitors Ministry and predominantly the Women's Ministry, for which she established a wide variety of groups and events. Two years after her hire, she took on the responsibility of overseeing the Men's Ministry and later the Singles' Ministry. More recently, Julie began to oversee the Family Ministries and Young Adult Ministry and looks forward to moving into the role of Executive Pastor of Ministries while serving alongside her husband, Pastor Pat.
Julie has served on the church council since 2002, commissioned as a minister in 2007 and licensed in 2009. She preaches, teaches, and participates in the ministerial duties of the church. Julie has earned bachelor's and master's degrees in Pastoral Ministry. The desire of her heart is to see people from all generations come to the saving grace and knowledge of the Lord Jesus Christ, be filled with His Spirit, grow in His Word, and use their God-given gifts and talents in His church. She loves the church and is so thankful for the opportunities the Lord has afforded her to serve in His Kingdom. Julie is looking forward with great anticipation to all that God has in store for the future of Bethesda Christian Church.