Adult Catechism is a 25-week series offered three times annually…in the fall, winter and spring. Contact the Church Office for the next start-up date, and register online or via the enrollment form included in Bethesda's Catechism Brochure, available at our information racks.
Registration fee: $25
Topics Covered
God and His Creation
The Origin of Evil
Jesus Christ Our Savior
Baptism
The Holy Spirit
The Purpose of the Church
The Sacraments
The word comes from the Greek katecheo, which is used in Galatians 6:6 where Paul notes that he who is taught, or catechized, should share with him who is teaching, or catechizing. Catechizing is most often teaching by the question and answer method. Jesus frequently taught believers and skeptics alike by posing and taking questions. He was once asked "Lord, we don't know where you are going, so how can we know the way?" Jesus answered, "I am the way and the truth and the life. No one comes to the Father except through me. If you really knew me, you would know my Father as well. From now on, you do know him and have seen him." In that brief question and answer is the meaning of catechism: a question is posed, and a clear concise answer gives revelation of God. The catechism curriculum of Bethesda Christian Church is based on this principle.
Catechism is an important foundation in anyone's Christian walk. We ask all who seek to make Bethesda their home church to complete the Catechism course. Both the new Christian and the established Christian will benefit from the experience and thereby contribute to a congregation that knows and understands the foundational teachings of the church.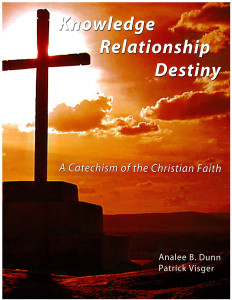 Knowledge | Relationship | Destiny
By: Analee B. Dunn, Patrick Visger
A CATECHISM OF THE CHRISTIAN FAITH
A catechism provides an effective way to answer the fundamental questions of Christianity. Using the technique of a question/answer catechism, students discover the truth of the Bible as they gain knowledge of the Word of God, encounter the life changing power of a relationship with Jesus Christ, and learn that they have a destiny in the Kingdom of God.
---
Youth Catechism 2017-18
Connector.

Text & Workbook

(provided on the first day of class)

Connector.

Connector.

Confirmation Banquet Ticket

(Additional tickets may be purchased for guests.)

Connector.

Events/Confirmation Reception
Enrollment & Material Fee
An online payment of $50 is required for each student to enroll.
This fee includes:
Text & Workbook (provided on the first day of class)
Class Picture
Confirmation Banquet Ticket (Additional tickets may be purchased for guests.)
Events/Confirmation Reception
Note: A New International Version Bible is not supplied but is required as an accompanying text.
Time & Location
Class begins on Sunday, September 17, 2017 at 9:00am in Room 230. A complete schedule will be provided at the parent/guardian meeting.
Parent/Guardian Meeting
A required meeting for parents/guardians will take place on Wednesday, September 13 at 7:00pm in Room 114.
Pay here